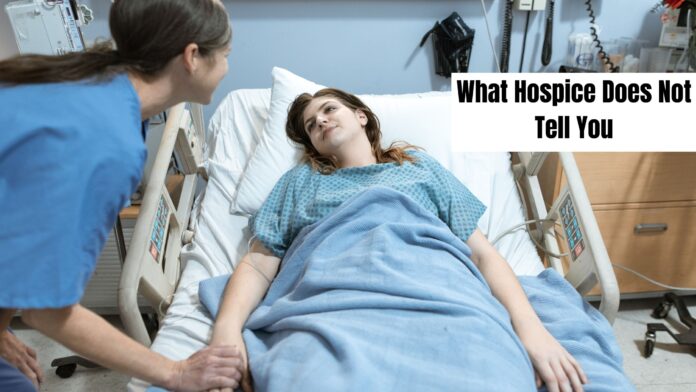 Hospice care is often surrounded by fear and misconceptions. This blog post aims to shed light on the lesser-known aspects of hospice and provide a better understanding of its invaluable comfort for individuals with life-limiting illnesses. This blog post will discuss what hospice does not tell you.
What Are Some Misconceptions About Hospice Care?
Misconceptions about hospice care often wrongly portray it as a last resort, signalling abandonment. In truth, hospice provides dignified treatment for terminal illnesses, prioritizing physical comfort, emotional support, and spiritual strength. It enhances the quality of life for patients and their loved ones during a challenging period.
Hospice care is not confined to a physical location; it is a specialized form of care.

Hospice is inclusive, catering to individuals of all ages and illnesses.

Hospice offers comfort and support during the final stages of life.

Hospice caregivers undergo specific training to assist those nearing the end of life.
Realities of Hospice Care
Hospice care provides compassionate support during the end-of-life journey, offering comfort, dignity, and respect to individuals and their loved ones as they transition from this world. It represents the hope for a gentle and meaningful passage.
Hospice care ensures patients receive dignity, compassion, and comfort.

Individualized care plans cater to the unique needs of each patient.

Families receive support to cope with the challenges of illness.

Hospice care is available either in the patient's home or a dedicated facility.
The Actual Time Spent with Patients
Hospice care involves a multidisciplinary team of healthcare professionals, including doctors, nurses, social workers, and aides. However, due to the unique and unpredictable nature of each patient's needs, there may be instances when the team cannot be immediately available when required the most.
End-of-Life Decision Making
Hospices may not fully disclose the emotional challenges surrounding end-of-life decisions, which ultimately rest with the patient and family. It is vital for families to engage in open conversations about these choices in advance, ensuring clarity when the time comes.
While hospice care offers comfort and pain relief for life-threatening illnesses, it is crucial to recognize unspoken aspects. Hospice care can be costly and may not be fully covered by insurance, leading to significant out-of-pocket expenses.
Understanding the Range of Services Offered
Hospices go beyond providing palliative care in the final stages of life. They offer a wide range of comprehensive services, including medical care, pain management, and additional therapies like massage, acupuncture, and yoga. These services aim to alleviate discomfort and enhance the overall quality of life during this challenging period.
Conclusion
While hospices excel in providing comfort and relief for individuals with life-limiting illnesses, there are certain aspects they may not fully communicate. This includes time spent with patients, end-of-life decision-making, and the breadth of services beyond palliative care. By being aware of these factors, you can make informed healthcare decisions for yourself or your loved ones when the need arises.
I hope you liked our article on what hospice does not tell you, if you have any comments or suggestions do share them in the comments below.
FAQ
Q1: What services do hospices provide?
Ans: Hospices offer comprehensive medical and holistic care options.
Q2: How much time do hospices spend with patients?
Ans: Time spent varies depending on individual needs and circumstances.
Q3: Who makes end-of-life decisions in hospice care?
Ans: End-of-life decisions are ultimately made by the patient and their family.
Q4: Are all hospice services covered by insurance?
Ans: Insurance coverage for hospice services varies; out-of-pocket costs may apply.
Q5: What is the scope of services beyond palliative care?
Ans: Hospices offer additional therapies like massage, acupuncture, and more.